involucrata & karwinskii
Listing and documenting species and forms of S. involucrata, karwinskii,  that we are aware of,  followed by the many crosses:
Similar Species to be included are S. puberula and S.wagneriana
S. involucrata and S. karwinskii are the parents for the majority of these crosses.
Both S. involucrata and S. karwinskii are tall growing Salvias from South America, both grow extremely well here in Melbourne.
S. puberula and S. wagneriana are not included under the involucrata name as these were probably named by a different person at a different time, not realizing that the others were already named.
involucrata (the species) – very tall up to 4mH, winter flowering, arching branches with  very long inflorescence (up to 30cm)
 This begins to flower in late Autumn, and lasts till early Spring.
The flowers are cerise and dense along the flowering stem. Whilst it has a very large terminal knob initially, although as more flowers open (towards end of its flowering) this becomes quite small . They can expand to a length of 20 cm, approx 10 inch long, all facing upwards on one side of the stem. It has a small involucrata – hence the name ( a lot of bracts holding more flowers). The calyces are a lovely pink, they also face upwards.
The leaves are a cordate shape, dark green, smooth, little veinage and quite pointed at the apex. The leaf stems are often pink.
S. involucrata prefers a sheltered position to grow, whilst it will grow in a sunny position , it grows better if given a shady sheltered position.
S. karwinskii  also grows tall about 3.5 – 4m H, not quite as high as S. involucrata, but grows more into a shrub and enjoys a lot more sun. It has a more upright habit, which makes it a large shrub and a good strong grower, more tolerant in a more open situation in a sunny situation
S. karwinskii comes into flower late than many others winter flowering Salvias, flowering around about July and continues until early Summer, Nov / Dec.
The flowers are a watermelon colour, set in 3 tiers in dense whorls around the stem, so when one tier is finishing, another is just beginning, hence the long flowering time.
The flowers have a brownish look about them, which are all the coloured hairs on the calyces, bracts  and flower stem. It also retains the flower bracts for a long time, these are curled at the ends, giving the appearance of a small lip.
The leaves are an elongated cordate shape, grey, hairy and the veins are very clear. The underneath is paler with white hairs as well as down the leaf stem and often along the new growth stems.
Both of these plants are very promiscuous and have sired plenty of cultivars.
          karwinskii                         involucrata spp (new)       involucrata spp
 S. involucrata & S. karwinskii  tall  cultivars are:
'Romantic Rose'     a cultivar that has been around for the  past 20 yrs.
'Timboon'  a cultivar found by Meg in the town of Timboon
'Floss' an early cultivar that brought to our attention by Sue, but hasn't been promoted  until now
'Pink Icicles', a pale pink cultivar
karwinskii Red Form –

'Red Sprite'

karwinskii

'Cyclamen'
            'Pink Icicles'                       'Romantic Rose'                'Timboon'
          'Redsprite'                            'Verdi'
'Romantic Rose' is a very vigorous, robust Salvia, growing  4-5mH, cerise coloured flowers  on stems that " come out to greet you".
The corollas are fatter, denser and larger than both parents.
The one distinguishing feature is that it's knob is elongated, which makes the flower very attractive.
The leaves are a elongated heart shape, large, mid green and  mildly hairy and thin .
Romantic Rose
'Timboon' is often called 'Timboon Red', only because we know it's not green , blue or yellow , but it should be referred to as only  'Timboon'.
This is another robust grower but not as much as 'Romantic Rose'. It grows only 3-4mH with more compact growth habit, more of a sentinel shape .
S. karwinskii shows as the dominant parent  with the leaves also being mildly hairy, darker green but thicker, similar to karwinskii.
The flower is a dense brush of  a dark cerise/ crimson , showing only a small knob'
Timboon flowers slightly late than 'Romantic Rose', coming out in June/  July and lasting longer than most of the 'Winter Flowering Salvias.
A very handsome shrub, a must for any back ground shrubbery.

'Timboon'

'Timboon'

'Timboon'

'Timboon'
'Floss' looks just like a slender form of S. karwinskii . Although it has thinner stems, it can grow about 3mH with a lax but upright habit , which can form into a large dense shrub.
The flowers along the flower stem are sparse and slender, with only two tiers of flowers to the whorls.  The colour of the hairs are more crimson, but the flowers are still a watermelon colour, they also have the little curling lip on the bract around the flower, giving it an elfish look. Although slender, it produces an abundance of flowers during the season, coming into flower about the same time as it's parent.
The leaves are a broad cordate shape, a light green and coarse. In winter, they colour up beautifully with crimson and brown blotches.
A good specimen is to be seen in the Geelong Botanical Gardens.
'Pink Icicles' is a very pale form with just a possibility that a gene from S. wagneriana may have something to do with the pale colouring
Flowers are a lovely pale, pale pink, with a large knob which elongates as it grows, the calyces are a pale pink and face upright all in one direction along the flower stem which can reach15-20 cm.
Leaves are a cordate shape, smooth, dark green and pointed at the apex.
This likes a sheltered position in the garden and makes a wonderful splash of soft pink in the late Autumn /Winter months
'Pink Icicles'
S. karwinskii  ' Redsprite' is just like it's parent in it's strong upright growth form, growing to at least 3mH, it has greyish leaves but much redder flowers. The flowering stem isn't as dense as it's parent, but produces copious number of these red flowers.
 S. karwinskii ' Cyclamen ' This is a very attractive form of karwinskii, growing to approx 3mH and forming a bushy habit of growth. It has greyish leaves and beautiful long slender cerise flower stems. Another good find.
karwinskii 'Cyclamen'
'Pink Gruyere' – Meg has a new hybrid in her garden growing 4m high with thick stems like bamboo. A very strong grower. Taller and robust about 3-4m. Similar in leaf to 'Timboon', but the flowers are a cerise pink, the corollas are small but have a white throat , the the lower lip small and curled beneath, and compressed laterally.  2 papillae present in base of corolla.  The group decided that 'Gruyere' was an appropriate name.
'Hadspen' 

An interesting form in the involucrata group. This form grows only 1.5 – 2mH. It has a very open habit and is extremely brittle, the stems being         almost completely hollow. Because of it's open habit, it can spread a little, but certainly not extensively.
Leaves are a broad involucrata cordate shape with a slight blue hue to the green colour, which can be seen easily in the new tip growth.
Flowers are more pink than watermelon. Flower head is not crowded, often growing to 20cm long, all the way around the stem. The corollas are long and fat  with a small hood and lip. The knob is elongated and not large, the bracts are pointed and tend to turn down, giving the flower an elegant look.
Calyx is green with brownish colouring on exposed sides.
This form grows best in a semi shaded sheltered position. Once established it will tolerate more dryness, but like all the involucrata group they appreciate being watered.
'Hadspen'
'Follet's Folly

'
is possibly a karwinskii x microphylla. It has the same flowers as 'Mystique', but grows taller to 2.5mH, fairly erect and bushy, flowering  Autumn/ Winter in the southern states.
Lvs are a  elongated cordate shape, veins visible, slightly hairy both sides, a lovely midgreen colour that can colour in the colder months.
Calyces are predominantly green with some brown colouring on the exposed sides.
Flowers are a watermelon pink colour, semi tubular with a smaller microphylla type corolla. The flower head is erect and can be crowded, but not like it's karwinskii parent, approx 15 -20cm long.
Follet's Folly is best grown in a sunny/ semi shaded sheltered position. It's quite cold hardy  and summer hardy once established.
'Kingsholme Cherry'
Involucrata 'Coconut Ice'
Both have not flowered yet,  descriptions and photos will be provided when we have photos.
This species has been included here as so often it is mistaken for an involucrata hybrid, as it also has a knob of bracts.
I think it might have been a situation of a different person naming the plant at a different time to the involuctata's in a different location, not realising that the involucrata's existed.
This Salvia certainly looks like an involucrata, but it produces  green round stems and has a similar arching habit to approx 3-4mH.
There are two flower forms, a normal pink form and a paler version.
The flower head is very compact a the end of the stem with many flowers being attached in a bunch.
Lvs are a bright green, with a thicker texture and  a serrated edge.. They are rarely flat like an involucrata but slightly concave.
This Salvia like the other involucrata's like a sunny sheltered position with it's roots protected in summer.
wagneriana & pale form
Dwarf Forms
'Bethelii'
'WinterRed'
'Joan'
'Mulberry Jam'
'Ripe Raspberry'
'Mystique'
puberula spp
Dwarf Forms of Involucrata type Salvias
'Bethelii'

– This really is a smaller form of S. involucrata, but only growing 1 – 1.2m.The main flowering time is late spring / summer, but will flower through to Autumn.

The flowering stem is much shorter with the corolla's forming a whorl around the stem rather than along one side. The corolla and calyces are the same pink colour.
The leaves are a similar shape and texture to the parent plant but slightly smaller
If you can't grow the tall species, then 'Bethelii' is ideal for a smaller garden.
Involucrata 'Bethellii'
'Winter Red'

is a very useful dwarf form of S. karwinskii, almost a groundcover. It is extremely useful under trees to fill those bare areas and very useful at the base of trees on windy sites to prevent larger shrubs and trees from being blown out of the ground. Growing approx 60 -80cm H, loves the shade but will also do well in a sunny sheltered position. 'Winter Red' is frost tender and will be hardy in the dry shade of a tree when established. It can become lax with elongated stems if grown in too much shade.

Fls are tubular and well spaced along the coloured flower head. The calyces are a deep crimson colour with pointed ends, clearly showing the karwinskii parentage.
Lvs are a soft green, softly hairy both sides.
'Winter Red'
'Joan'

is a very hardy and adaptable Salvia. This forms a clump approx 1-1.2mH and once established doesn't blink on those hot days. provided it is mulched well.

Fls are a wonderful hot pink or cerise, making a good medium head of fat tubular flowers. 'Joan' can flower all year, if it's not cut down.
Because of it's perennial growth, this Salvia can be cut down to the ground once new shoots begin to appear at the base of the stems.
Lvs are a typical involucrata type shape  with more texture.
Involucrata 'Mulberry Jam'

This dwarf involucrata hybrid is slim and tall to 1.2mH. I t grows well in a prairie situation where the flower head appears above the other foliage, or mass planted behind a hedge.
Fls are mulberry colour with dark pink calyces, appearing in whorls around the stem, a again dark  pink colour.
Lvs are not large but oval shaped, dark green and become a burnished colour in winter.
Although some think it is a weak plant,  if properly grown in a sunny sheltered position with enough water in the summer or at least it's root system well protected, it can be a lovely addition to the garden in a mixed border.
'Mulberry Jam'
'

Ripe Raspberry'

This is a really nice clump forming Salvia. When it is in flower in Autumn/ Winter it can be stunning with those gorgeous raspberry  flower heads growing 1.2 -1 .5mH rising above the other shrubs in the middle of the bed or again, behind a hedge.
Fls are a raspberry colour in a large flower head and dark pink calyces.
Lvs are a lovely fresh heart shaped  light green.
Easy to grow in a sunny sheltered/ semi shaded position
Involucrata 'Ripe Raspberry'
'Mystique'
This is a low bushy shrub  to 1mH with long thin cordate lvs and a good red flower head, flowering for most of the year. This is the low form of 'Follet's Folly'.
Fls are semi tubular and a pink  red colour, but green calyces. The flower head is compact. All stems are green.
Lvs are a long cordate shape, slightly convex along the midrib, a fresh green colour and slightly hairy.
Easy to grow, a sunny position with it's roots protected in the summer heat.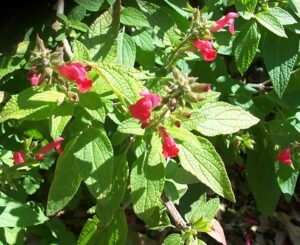 'Mystique'
puberula :

(2 forms) species has more of a perennial growth habit than a shrub, approx. 1.2 – 1.5mH, this flowers earlier than involucrata. Inflorescence is quite short – about 7cm – basically only 1 whorl (false whorl) and central bud of a dark, dusky pink.
Lvs are scented and have a slight blue hue with a velvet texture.
puberula 'Pink' :– Meg has another form of a similar height but flowers are larger and a lighter magenta pink than the species.  This originated in Timboon and Meg has labelled the photo in her book as 'Timboon Pink' .  In future, any reference to Timboon should be avoided, so as not to be confused with karwinskii x involucrata 'Timboon' (dark red – nothing like this one)
puberula spp