Seed Disclaime

r

:
Although we try to insure the purity of the seed, we cannot guarantee that the seed will come true to form. Many do come true to form, but be aware that Salvia species can cross with other Salvias, especially in the case of the greggii / microphylla cultivars.
Please check the identity of the resulting seedlings.
If there is any difference in the seedlings, be very selective and check for duplication of what Salvias are already existing and what is very similar to other Salvias  being promoted.
All this is to prevent confusion as so many look the same or have similar names.
Please check the website : pages on Plant identification, New Salvias and the various lists through out the site.
Any plant that produces seed has the potential to become a weed in an ideal environment, but few gardens have ideal soil. Most gardeners enjoy self seeding plants and all Salvias are easily pulled out from areas where they are not wanted. Very rarely are they ever a pest.
We do NOT sell noxious Salvia  weed/ pest species eg. S. verbenacea
Seed Germination Tips:
Often some seeds can be difficult to germinate without a little help.
Sow seed in Spring to Autumn, in friable soil, sow seed into pots with a very good seed raising mix. Sow seed directly on top of soil, DON'T cover with soil, Salvias need light to germinate. Cover pot with fly wire to protect germinating seed from the 'Midnight Munches'.
Water either with a dose of Epsom Salts – 1tsp in 1 Lt spray bottle, allow the mixture to dissolve, then spray immediately after sowing, then again once or twice before they germinate. The magnesium helps to overcome the dormancy.
Smokey Water:
Smokey water is often used to help germination in the form of diluted
Regen 2000 Smoke Master solution  from TREEMAX
This is often used by Nurseries and Botanic Gardens                                        to help overcome the dormancy  in some very difficult seeds.
SEED LISTING

Salvia Seed Available:
All seed is collected annually and sourced locally from collector's gardens each season.
Payment for seed ordered can be by either a cheque or by Direct Deposit. To make the order worthwhile, the order must be $12.00 Aus. or more.
Seed will be sent as soon as possible from when the order is received.
See instructions on seed raising in the propagation notes.
Please see the seed order form below.
See list of seed in colour order below
Salvia Seed Available
Red  & Crimson Salvias
S. roemeriana:   Often treated as an annual, but can be kept all year, by regularly dead heading and clipping back. Grows to 30cm, open, sprawling. Very interesting leaves and bright red flowers. Best grown in a pot. Summer Fls
Blue / Purple/Mauve
S. ' Allen Chickering': A lovely scented bushy shrub, having the leaves of S. leucophylla and the scent of S. clevelandii. Tough hardy to 1mH, full sun. Same plant as S. 'Celestial Blue' – named at different times by different people
S. afric
ana ( caerulea). A low growing tough bushy shrub, 40 – 60cmH, often spreading slowly to make a good clumping shrub. Blue flowers with a white beeline and hairy calyx. Grow in full sun with good drainage. Bee friendly
S.auritavaraurita274_000.JPG                                                                                   S
. aurita var aurita. Low growing perennial to 40cmH. Quite different from S. aurita var galpinnii. This is a hardy plant for full sun, growing at the front of the bed. Pale blue fls end of Summer, seeds well. Bee friendly
S. canariensis:
S. canariensis:A medium upright bushy shrub to 2mH, with large hastate shaped Lvs. The flowers are soft mauve panicles, in spring to summer. Tough , drought hardy and tolerant to frosts. Bee friendly
Hastate leaves of S. canariensis
23.S.canariensisvarcandissima01.jpg
S. canariensis var candissima: An interesting shrub. The leaves are woolly, silver and hastate shaped and not as long as the parent. Growing to the same height, but less dense. Flowers, same as the parent. Looks like a woolly version of the parent.
S.CelestialBlue39_000.jpg                                                                                                  S. 'Celest
ial Blue':  A lovely scented bushy shrub, having the leaves of S. leucophylla and the scent of S. clevelandii. Tough hardy to 1mH, full sun. Same plant as S. 'Allan Chickering' – named at different times by different people. Bee friendly
S. clevelandii:
S. clevelandii: Coming from California, this need good drainage and full sun. Always difficult to propagate, but easy to germinate seed. Beautifully perfumed lvs and blue fls arranged in a whorl around the stem.
Bees love these. It is a parent to 'Celestial Blue' and 'Allan Chickering'
GreekSkies2.jpg
                                               S. 'Greek Skies'. A tough herbal sage, 40 -60cmH that does best in full sun, grows in
Winter when the other S. officinalis "goes off". Makes the best Sage tea. Flowers late spring with mauve flowers.
Bee friendly
                                                S. forskaohlei. This can be herbaceous in cold climes, but often stays throug
h winter. Forms large leaves, making it ideal for shady damp areas. Beautiful mauve spikes form in spring, with a strong white beeline on the flowers. Bees love them. Can self seed readily, take unwanted plants out when young as they have a strong tap root.
S. lyrata  ( Green  leaf variety) – This is a small clumping perennial, excellent for a border plant. It is mainly grown for it's leaves than for it's flowers. The green variety produces large broad leaves about 6 – 8 cm x 4 -6 cm, these have lovely dark lyre markings along the veins. The dark leaf variety has a reddish underside, making a lovely leafy plant for the border. Both varieties send up many stems to 20 – 30 cm and produce copious amounts of seed. The flowers on both are a pale blue, the flowers  are often gone before they are seen,but produce interesting seed  heads.
S. muirii

S. muirii A  a small dense shrub, approx 60-80cmH . Lvs are small and grey, very good for clipping into a hedge. Tough hardy shrub for Summer heat and Winter cold, frost hardy. Flowers spring – Autumn
                                           S.napifolia – A herbaceous perennial that forms a compact rosette of hairy ly
rate shaped leaves, growing to approx. 30cm. Flowering in late spring / summer, it forms dense whorls of pale lavender flowers, which last through out the season. Although small, they produce good quantities of seed. This needs to be planted en mass for a good show.
S. nemerosa 'Ostfriesland'
S. nemerosa 'Ostfriesland':   A herbaceous  Salvia, appearing in Spring with rosette growth, flowering in late spring with dense upright stems of mauve flowers, 40-60cmH – good for bees.
S. nemerosa 'Violet Queen'
A herbaceous Salvia to approx 40cmH. Flowering in spring till late Summer, this makes a lovely display as a border to a garden bed.
Flowers form a lovely spike of violet fls with long leaves forming a typical rosette type of growth
S. officinalis:   Good old cooking Sage. A wonderful small grey leaved clump
ing perennial to 30cmH. Grow in full sun, no shade and not crowded by other plants. Mauve flowers in Spring . Good for bees
S.repens: A tough ground cover from South Africa. It forms a neat clump of rough mid green leaves, growing to 10cm. It loves the sun, it grows well in gravel areas, in pots or at the front of a bed. it is ideal for those hot spots in the garden. Flowers are held well above the leaves. Plenty of sky blue flowers are produced in Summer, producing masses of seed.
                                          S. somalensis – A medium upright shrub, growing to approx 1.2 – 1.5 m H.  A toug
h frost hardy shrub with light green oval leaves that clothe the stem all the way to the base. The leaves are long, leathery  with a pleasant fragrance.  Flowers are pale blue in a panicle at he top of the bush, flowering in late spring through to autumn. Although drought hardy, it enjoys being watered, but must have good drainage.  A good    middle to background plant in full sun.
Pink Salvias
S. fruticosa: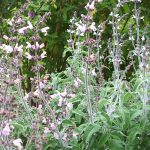 S. fruticosa: 'Greek Sage' A mediterranean shrub with herbal qualities,  growing to 80cm-1mH,a rounded bushy shrub with grey furry lvs and soft pink spikes flowers in spring – autumn. Very tough and frost hardy – full sun. Bee friendly
        S.leucophylla: A tough hardy small shrub from  California. Lineal grey lvs and whorls of pink flowers around the stem. Lvs have a medicinal smell. Parent to 'Celestial Blue'. Full sun, good drainage.     
S. nemerosa 'Amethyst'   
S. nemerosa 'Amethyst' :  A tall pink herbaceous Salvia growing to 60-80cmH . Appearing in Spring, coming into flower in late spring/ summer. The spikes are  very full of beautiful pink flowers . Hardy in Winter and Summer – a warm sunny position.                                                                                                                                                             
   S. 'Pink Blush': 40-60cmH. A good filler for those large areas and can be held in check by easily pulling out the unwanted stems. Leaves are a typical microphylla type leaf – large light green oval /oblong shaped leaves and large cyclamen coloured flowers. Flowers all year
S. taraxicifolia :
S. taraxicifolia: A grey leaved small Salvia with rosette growth, tough hardy, full sun, 10- 20cmH , good drainage needed.
       S. visco
sa: A herbaceous perennial. Leaves are long, thickly rugose and gently lobed in a rosette formation. Flowers appear on a one or two stems well above the foliage. The flower stem is quite sticky, but the maroon coloured flowers are small and very pretty with their white markings near the throat – hardy and very attractive, especially if in a row at the front of a bed.
White & Yellow Salvias
White
    S. apiana: A very allusive plant, which is not readily propagated from cuttings, but easily from seed. Silvery grey leaves that form a rosette, becoming smaller as they climb the flower stem. Tall flower stems to 1-1.2m H producing beautiful white butterfly type flowers. The bees love this plant. It must have very good drainage and full sun. Flowers in the summer producing copious amounts of seed.
S. aurita var galpinnii

S. aurita var galpinnii: An arching groundcover, that loves a semi shaded position, growing to 60-80cm H with branches up to 1min length, rooting where it  touches the soil.  Excellent under trees or on windy sites to prevent taller shrubs from being blown out.  Small white flowers with lovely lobed leaves.

S. desoleana
S. desoleana:   A tough hardy shrubby perennial from the Mediterranean, growing to 80-1mH, with large aromatic rugose lvs and long spikes of white fls which the bees love. Sun and cold hardy, tolerating frosts well.
---
S.disermas.jpg
S.disermas:
 

  A grey leaved hardy perennial, approx 60cmH. Lvs are acutely lobed and rugose. Fls white, spring- autumn

S.disermas 'Compacta', similar height and growth habit, toughness. Lvs cordate, not lobed, forms a good clump. Good for butterflies.
S.greggii Alba005.jpg
       S. greggii 'Alba': A compact small shrub to 40 cm. Leaves are typical greggii shaped leaves. Flowers are pure white and flower all year. Loves the sun, tough, hates wet feet, makes a good hedge or plants dotted through the front border.

S. mellifera

S. mellifera:  A tall, open bushy shrub from California, growing to 1-1.2mH, with long, thin, pungent leaves and small white flowers. Often used for smudge sticks by the Nth American Indians. Tough, hardy to summer heat and winter cold. Very bee friendly.
                                               S. 'Snow White': This is a progeny of greggii 'Alba' but is a x. The shrub grows to
60cm, it has a more open habit of growth, leaves are much bigger, longer and shiny. The leaves show it's parent. Flowers are pure white, being the same as the parent. Good behind a hedge or dotted along the border.
37.S_staminea_000.jpg
S. staminea: A herbaceous rosette forming perennial. Small rugose type lvs
with a large white flower stem. Fls summer/ autumn. Full sun, hardy

Yellow

S.aurea/ africana lutea:

S. aurea / africana lutea is a dense medium shrub to 1.5mH. This can come in a green or grey leaf form, both have the same  beautiful large terracotta flowers, late winter/ spring.
                              SEED ORDER FORM
Name ………………………………………………………………………
Address…………………………………………………………………..
Email address ……………………………………. Phone ………………
PAYMENT  can be either Cheque, ( made out to the HSOV Salvia Study Group )
Each Pkt  of seed is $3.00. + postage of $5.00 To make the order worthwhile, orders over $12.00 Aus. should be given.
Cheque, Money Order, or Direct Deposit
1. Cheque / Money Order ( payable to HSOV.Inc. Salvia Study Group)
2. Direct Deposit :Bank: Bendigo Bank, BSB: 633-000                                         A/c No:116846122
Acc. Name: HSOV Salvia Study Group Branch
The form MUST be completed with all types of payment either post with cheque  or email form to [email protected]  with a copy of your direct deposit transaction Surname & Initial ( admin purposes only) please
SEND TO : 844 Highbury Rd, Glen Waverly, 3150 , Victoria, Australia
Email : [email protected]